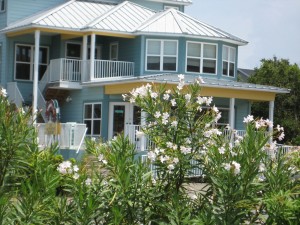 The Laughing Lizard…
It's more than just great sunsets
and waves lapping at the shore.
It's wonderful restaurants, museums, galleries,
shops and so much fun —
even the lizards are laughing.
The Laughing Lizard is a tin-roofed, three-story, Key Westy island home built in 2005, located in the quaint island community of Indian Rocks Beach just south of Clearwater Beach in the Tampa Bay area on Florida's west coast. This casual residence is a contemporary throwback to the cottage-style architecture that speaks to Indian Rocks Beach's roots.
This multi family, mixed use property lets you choose between the charm and coziness of the Island Iguana studio apartment; seclusion and privacy of the 2 bedroom 2 bath Lizard Loft; or spaciousness and casual elegance of the 4 bedroom 4 bath Lizard Lair.